My long-awaited novel, JOSEPH OF NAZARETH finally has a release date: 12/23/2013.
That's Monday! Just in time for Christmas!
Here's the blurb:
For two thousand years, his name has been known throughout the world – though very little is known about his life. His crucial role: husband of Mary, and the most important step-father of all time. What was it like to help deliver the baby Jesus, to raise the Savior, to witness His suffering in Gethsemane and upon the cross? Experience a first-hand account of the man called to be the father of the Son of God, in JOSEPH OF NAZARETH – a work of inspirational historical fiction.
And here's the fabulous cover, by awesome graphic designer, Sue Gagnier: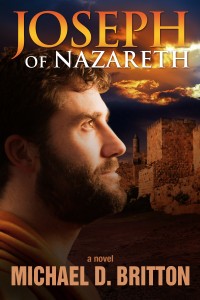 I look forward to hearing all of your thoughts about the book in the reviews you leave on Amazon, Goodreads, Smashwords, Barnes & Noble, iTunes, or other sites.
I hope this book moves you and touches your heart, and I hope that it does some good in the world. If it brings just ONE person closer to God, then it was all worth it!